Many companies put their best foot forward when it comes to their external branding, whether that be their website, social media or visual communications. However, they often fall short when it comes to internal workplace branding.
Internal branding deserves just as much attention as the brand experience you create for your customers. If you want your company to stand out to new hires and retain current employees, you might want to pursue internal branding initiatives that help develop a sense of pride and belonging. Overall, you want to create continuity between the brand you present to the world and the culture you create within your office walls. By giving special attention to your internal brand identity, you can create a culture that sets your company apart.
As client site visits and in-office working resume after the pandemic, now is a crucial time to consider your office space and the brand story it tells. Out of all the internal branding initiatives, environmental design is an unexpected but powerful MVP. The following examples show how environmental graphics, unique materials, and innovative design choices combine to create stunning office environments that shape incredible company cultures.
Top Tips to Enhance Customer Site Visits
1. Map out the customer journey
Generally, when a customer is brought on a site visit, there are two to three key touchpoints where they spend the most time, such as the reception area, or meeting rooms. You should take the opportunity to get your brand message across in these areas.  Before you begin your internal branding project, do a walkthrough of the facility and identify the key touch points.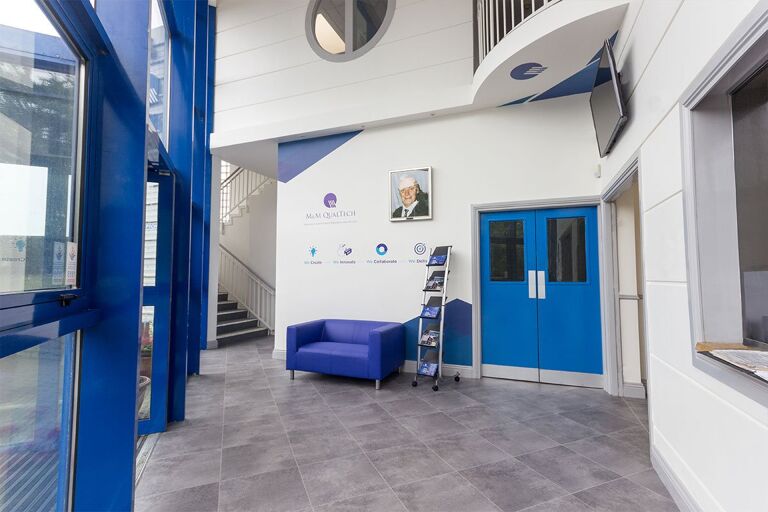 2. Consider the story you want to tell
Often there is an opportunity in the hallways or spaces leading to key areas to add storytelling aids. Take this opportunity to highlight your company's mission statement, guiding principles or major achievements in the history of the company. This can help assist employees in telling the story of the company and ensure consistency of the narrative.
3. Brand consistency
It is essential that your internal brand is consistent with your external brand. One way to easily do this is to incorporate colours from your brand identity throughout the facility or add your logo to the walls in key areas.
4. Educate clients
Use this opportunity to educate your clients about your company and your services. Ensure you have brochures and company literature in the reception area for your guests to read, and if you have a monitor, make sure you have a company presentation or video running.
5. Remember your employees
While client site visits are important to your business, remember that your employees are looking at these spaces every day. Try not to overwhelm or clutter areas such as office spaces with company capabilities or service lists but consider what would be useful to them. Typically, this is a great area to display your company values or vision.
For more information on how you can enhance your customer site visits, contact IMS Marketing on 091 739 450