For anyone active or interested in developing the European medical market for their products or services, we have just entered "Silly Season" ! (No, I'm not talking about Halloween or even Christmas).
Between now and next March, some of the largest medical device shows in the world take place (Medica, MD&M West, Arab Health, etc) which means anyone planning to exhibit or attend are already busy (or should be). At IMS Marketing, we are working with several clients, helping with their branding and pre-show marketing campaigns for these global events.
The biggest medical technology event in the world, Medica (www.medica-tradefair.com) which takes place in Germany on November 14th – 17th. This show is a monster (excuse the Halloween pun), with over 4000 exhibitors and expects over 135,000 attendees.
With this in mind, I decided to summarise the medical technology market opportunity in Europe. The following data is taken from a few different sources, with Medtech Europe being the main provider. The following data is from 2014 but it is unlikely to have changed too much in the meantime:
Market Size
The European medical technology market is valued at an estimated €100bn and is the second largest market in the world behind the US:
Germany is the largest market and represents 27% of the European market, followed by France, UK and Italy. These four markets therefore account for roughly 2/3 of the European market opportunity: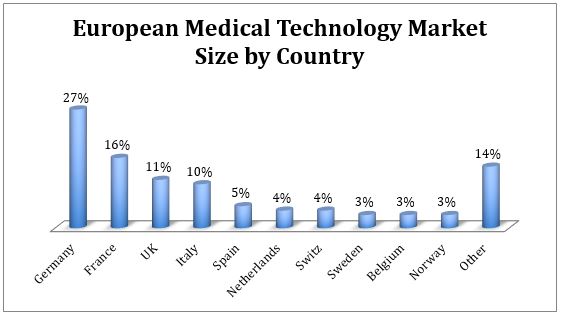 Medical Technology Innovation
Patent applications are a great yardstick of innovation in the medical market and in this respect, Europe and USA dominate. 38% of all patents filled worldwide in 2014 were from Europe: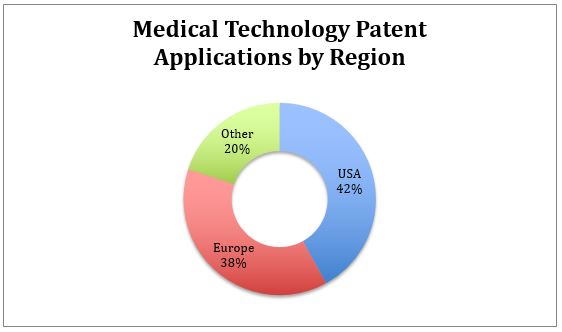 Employment – European Market dominated by SME's
While Europe has many global leaders in medical technology, the vast majority of companies in this sector are small to medium sized (<250 employees).
It is estimated that there are:
25,000 medical technology companies in Europe
Employing 575,000 people
95% of these are SMEs
Medical Technology Imports
If you are a US medical company looking to sell your current or next generation products in Europe then the opportunity is immense. The US is already Europe's biggest trading partner with 65% of all imports coming from Stateside.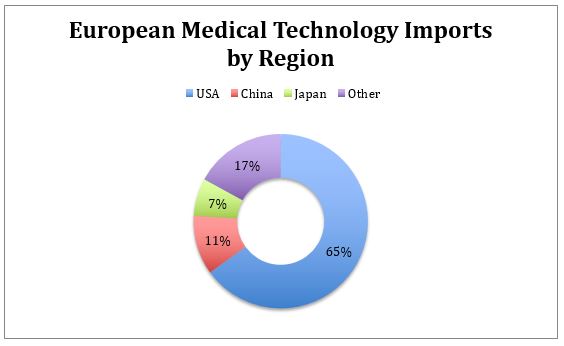 Was this information helpful? If you would like to find out more information on Medical Market Opportunities, call IMS on 091 739 450