Cathie is Market Research Manager in IMS and has been part of the IMS story for over 12 years.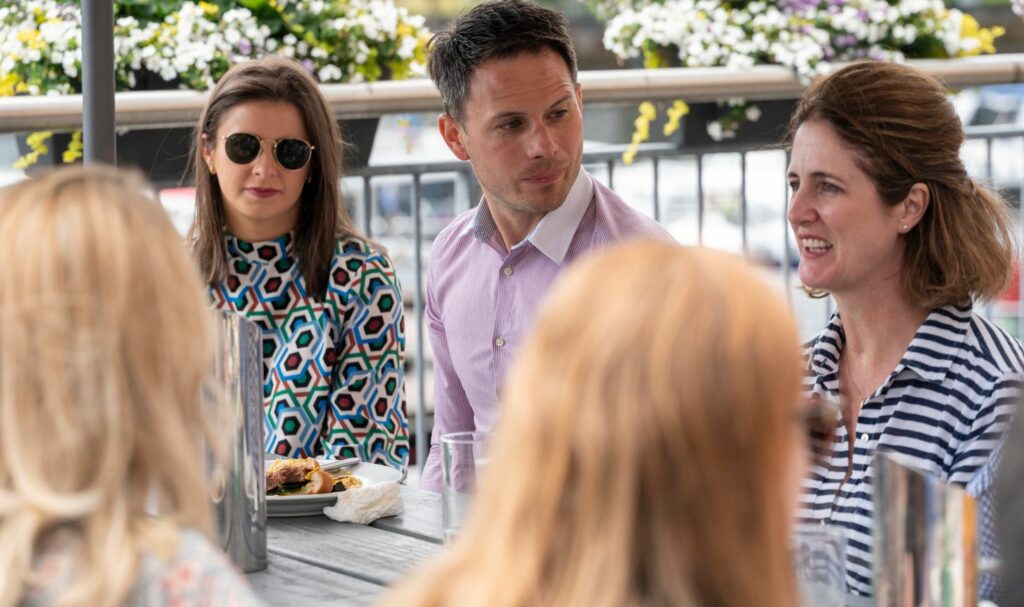 Hi Cathie, so take us back to the beginning of your career in the industry.
I studied a BA in French and Italian in NUI Galway, after which I embarked on a post/ grad in Business Studies, specialising in marketing.
After college I got accepted on a placement with the IBEC graduate placement programme (European Orientation Programme) which placed new graduates within European companies. There were thousands of applicants at the time, but I was delighted to learn I was one of the 200 selected graduates. The purpose of the programme was to assist Irish Companies with an export focus and the graduates were placed with companies who had a European base or subsidiary.
I was placed with a Dublin-based electronic engineering company called Odenberg Engineering, which had a subsidiary in Parma, Italy (they were bought over in recent years by https://www.tomra.com/). I was conducting market research on the French market for their Italian subsidiary, so I was really able to flex my language muscles in that role.
I fell in love with the region – the food and culture. But when my placement ended 12 months later, I returned home.
How did you like it being back in Ireland?
I was back in Italy less than a month later, so that will tell you! I just missed the lifestyle, and I didn't feel like it was time for my Italian adventure to be over yet.
When I first came back, I didn't have a job in the industry, so I did what all good Irish people do when they go abroad without a plan – I worked in an Irish bar! The first Irish bar in Italy in fact.
I say I didn't have a plan, but I kind of did – my plan was to get back into the business world, so I was focused on that all along. It wasn't long before I got a job in Milan as a Marketing Exec with Bord Bia. We were based beside Failte Ireland and Enterprise Ireland in a building called Ireland House!
I got amazing experience there – there were only three of us in the organisation at the time, so we all had a very broad spectrum of responsibilities. Our job was to promote Irish food in Italy, so I was heavily involved in ad campaigns, trade fairs, PR and press activity, new business development, and inbound media visits from Ireland. We would regularly meet with heads of large supermarket chains, presenting to them about the virtues of Irish food products – Irish beef and dairy for example.
I spent six years there doing that job before moving back to Dublin and spending another three years in another role in Bord Bia. The new role was Project Manager, and I was responsible for planning and executing international events across Europe. I travelled lots, met some great people, and made some fantastic connections, and I thoroughly enjoyed it.
So, what brought you back to Galway?
Family! I relocated back home to the West, setting myself up as an independent contractor. I still did some work for Bord Bia and I gained some new clients along the way.
That's when I first met Kevin from IMS and I started doing some work for him as a contractor over the years. I was doing more market research now, focusing on new market analysis, customer research, competitor analysis, and channel development. The channel development side of things was very big actually – seeking out distributors and partners, investigating their suitability as a partner for my clients, and then facilitating an opening conversation.
I would assess new markets and opportunities and make recommendations on which markets to enter or which opportunities to pursue.
In 2010, I could feel Mother Italia calling me back again, so the bags were packed once again, but this time with two small children in tow as well as two dogs. I kept in touch with IMS and tried working remotely with them for a year, but it was very hard from a different country, so I left the IMS work behind at that point.
I came back to Ireland again in 2013, completed a diploma in Digital Marketing and picked up the independent work I had been doing before. I was happy doing that for about six years until in 2019 I started to feel a little isolated and felt that I'd like to go back to an office environment where I had colleagues and people around me.
So, you re-joined IMS in 2019?
Yes, and then Covid hit! So, I had 6 months in the office with colleagues and then we were all remote again anyway!
My role is Market Research Manager, so I do a lot of research and analysis for our clients. Very similar to what I was doing as an independent contractor. We are seeing more and more ABM campaigns now though which is exciting as this type of marketing can be very powerful.
What does that involve?
It's basically highly targeted and focused marketing. We research a selected market or markets to unearth companies or partners who fit the targeting criteria, then target them with bespoke messaging and comms, and then attempt to engage them in a conversation.
The value and impact of this type of marketing is very rewarding to be a part of. With research you don't always see the fruits of your labour as it can be kind of in the background or to support other work, or sometimes takes a long time to be implemented or for action to be taken. With ABM you can see a direct impact of your work and watch your clients onboard new customers and grow their revenue in a very short space of time. There's great job satisfaction in that.
Have you noticed any trends during your time in the industry?
I think ABM is actually the big one. Back in the days before digital became everything, marketing was very targeted and very direct. Then digital took off and it became very "wide-reach" with big data sets and broad messaging. Now we are seeing it come back around again with ABM – selecting a small number of targets, personalising your outreach, and then speaking directly to them. It is a natural progression as ultimately people like to deal with people.
To be successful at ABM we still need technology to provide real-time insights, but to combat digital fatigue we also need to innovate to excite our audiences in new ways, which is where our detailed insights help to create relevant, personalised content for maximum success.
And finally, any advice for a young person starting out in their career?
Make mistakes. That's the big one. There's no such thing as failure. It's "win or learn". You have to try things and be open to making mistakes, otherwise you just get paralysed and never grow.
Also, when applying for jobs, if it sounds like a job, you want then go for it. Don't get put off by the list of requirements for the job. That's only ever a Wishlist – if you want it then go for it!
Check out our other employee interviews here.