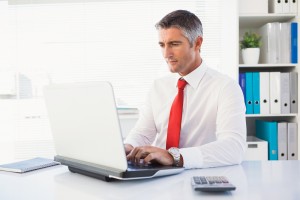 Blogging on a frequent basis is a relatively inexpensive and easy way to increase lead generation. A recent Hubspot study found that B2B companies that blog generate 67% more leads per month than those that don't.
Read on to learn more about how blogging benefits your business.
1. SEO
Blogging is a recognised way of improving your websites SEO. By producing fresh content on a regular basis you are giving search engines fresh content to index and providing yourself with more opportunities to include keywords. A study by Hubspot found that the average company that blogs receives 55% more website traffic than the average company that doesn't blog. In regards to marketing, where numbers/statistics are sometimes hard to pin down an improved SEO that generates web traffic is a valuable metric to use when calculating the ROI of your marketing effort.
2. Top-of-mind Awareness
'Top of mind' awareness is owning the space that your product or service occupies between your prospects ears. That way, when they're ready to buy they think of you first. Producing fresh content on a regular basis through your blog ensures regular exposure on your online networks, through sharing on company Twitter, Facebook and LinkedIn pages. Make sure to include sharing buttons on your blog post to help remind and make it easy for your readers to share throughout their own networks, thus increasing your reach even further.
3. Thought Leadership
Regular blogging about your business aids in positioning you as a Thought Leader in your industry. Writing about what you know and making it available to whomever finds it interesting is one of the pillars of inbound marketing and is a way of showing your readers you are confident and passionate about your industry.
4. Brand Personality
Blogging allows you to inject some personality into your company website. While the website showcases your business in the best possible light and often with formal language, your blog can showcase your business and also your staff, by attaching a name and therefore a personality to a piece of writing. Your blog page is also a place where people can reach out to ask questions or share opinions on what you have written.
5. Stay Current and React Quickly
Blogging keeps your content fresh and up to-date without the need for a website rehaul that may require a web developer and potential sales loss while your website is down. A blog post is an excellent tool for reacting to breaking industry news. A blog post is faster than a press release and allows you to print your story as you want without it being altered or potentially taken out of context by the press.
Remember!
Blogging is an investment. You may not see results straight away but stick with it. Unlike a newspaper ad that will last maybe a weekend, a blog post will live on your website forever providing your readers a valuable back catalogue of information.
For more information on blogging for business or how IMS can help please contact us at 091 739450 or by email on [email protected].