Content is King – Has Content lost its Crown?
Definitely not! In marketing there will always be buzzwords, some will come and go and some will stick around that bit longer. The key is not get hung up on terms; e.g. inbound marketing, pull marketing, thought leadership etc. What is important is what it actually means and what it actually does.
Online marketing is constantly evolving; in recent years and more now than ever the one thing that remains consistent is 'content marketing'. With updates from Google i.e. 'Panda' and 'Penguin', (if you haven't read these yet please do), old methods of Search Engine Optimisation (SEO) just don't cut it anymore.
Think about it, will Google still be in business in 5 years if it is producing irrelevant poor quality results in their worthy search engine? Will you still use Google or any other search engine if you cannot find what you are looking for quickly?
So what does all these search engine algorithm updates mean for those who want to create a presence online through a website? It means we have to create quality content, it has to be relevant and most of all it has to answer the questions that users that land on our website have. To top it of content marketing is about providing value to our website visitors.
What is Content Marketing?
Content marketing is the creation and distribution of valuable, compelling content to attract, acquire and engage a target audience.
The objective of content marketing is to create content that pulls prospects from where they are today, then moves them through the buying process, and finally converts them to closed customers.
The value of content marketing lies in the engagement between the customer and your company. Traditional advertising shouts at prospect customers whereas content marketing talks with them.
This method can benefit your company by increasing sales leads and positioning your company as a thought leader, in addition to increasing the number of visitors to your website.
How to Start?
Start with a blank page and a relevant theme.
• Write it out: Just write blind — get all of your ideas out. Writers are usually surprised by how much structure and genuine goodness comes out by just opening up and not letting their mental "editor" get in the way.
• Storyboard: If you're having trouble opening up or getting the ideas to flow, write some key words, phrases, or concepts onto sticky notes. You can even sketch some your thoughts, if that's helpful. This is a particularly useful technique for organising ideas for use in longer-form content, like white papers or live presentations.
Explaining the Value of Content Marketing to Management
This can be the most difficult part of the whole content marketing plan, getting everyone to understand the value of content marketing. It is important that you get buy in from the whole team involved in the process. Be warned this may take time!
What can we do to convince those that we need to make it possible i.e. managers, colleagues etc?
The proof is in the results and everyone loves results; show them the data from a content marketing campaign versus a typical product-driven campaign. Then stand back.
Six Steps to Content Marketing Success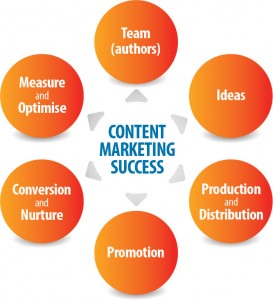 Create a strategic structure for your content marketing
1. Team: Assemble the group to manage your content marketing operation, assign ownership for various topics or time periods.
2. Ideas: Generate a steady flow of ideas for your content, allow for flexibility on titles.
3. Production and Distribution: Assemble your content and distribute it across the web.
4. Promotion: Generate traffic to your content, this maybe through Google Adwords, Display Banners on your site, Online and Offline PR and other suitable methods.
5. Conversion & Nurture: Convert visitor to leads, nurture them to opportunities.
6. Measure & Optimise: Analyse and improve performance, see what's working well and what isn't. Repeat a similar strategy to campaigns that have worked well.
If there is one point that you can take away with you, it is to understand that creating a presence online via a website is simply not enough. To go back to that old saying 'you can lead a horse to water, but you can't make it drink', give your users more than just the website, they expect it!