Video has become a staple of everybody's lives, from YouTube, Facebook Live, Vimeo and Snapchat. Due to the evolution of the world's technology and our fast-paced lives, we have developed short attention spans, videos are what we look for when we want to learn something new. Video creates experiences that are memorable, moving and inspiring. These are the types of experiences that help brand marketers drive important metrics, including awareness, consideration and most importantly, sales.
Video marketing provides marketers with an attractive and shareable medium to reach their audiences. 2016 was the catalyst year that saw the surge in video marketing and according to HubSpot, 78% of people watch videos online every week, and 55% watch videos online every day.
When it comes to B2B video marketing, there is more than just posting a video on your company LinkedIn page. See the below infographic from www.impactbnd.com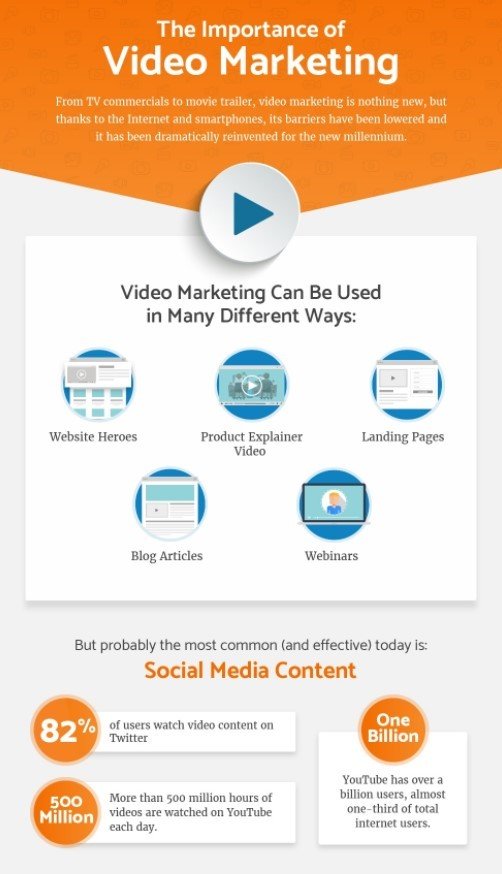 What Benefits Will Video bring to your Business?
According to Wyzowl, 63% of businesses are using video as a marketing tool and out of that, 83 % of businesses believe that video gives them a good ROI. They're statistics also informed us that 74% of respondents said that they have been convinced to buy a product or service after watching a brand's video.
Marketing is changing every year, but video will always be a very effective and successful way of marketing a product or service. For business, there are multiple ways for companies to use videos to promote their product or service.  As mentioned in the infographic above, businesses can use video as website heroes, product explainer videos, landing pages, blog articles or webinars.
Product Explainer Videos
For technical industries, product explainer videos can be very useful for the customer to understand the design and functions of the product. No customer will want to read reams of text that explains a product and the potential customer could move on if there is no quick and easy explanation.
Webinars
Webinars are a very convenient way of connecting with followers that you are already connected with. You can use Webinars for presentations, having a webinar with a full video demonstrating your product through a presenter can have a huge impact on how people view what your company is providing.
Landing Pages
Having videos on specific landing pages on your website will ensure that the viewer will stay longer on your website, meaning your brand message will have more time to sink in. Your video on your landing page can also increase your conversion rate by up to 86%, according to wishpond.com. A good suggestion would be to add a call to action at the end of your video or lead generation form to ask your viewer to sign up to your company newsletter or request a download of a brochure.
Social Media Videos
Posting videos on your social media platforms raises your brand tenfold. YouTube continues to be a video content giant for businesses and personal brands but it is extremely competitive. As we know it has been around a while and there are mountains of similar brands and companies to yours to compete with. It is still important to publish it on YouTube and have it to embed on your website but don't focus solely on YouTube for audience reach.
Facebook has blown up in the last year when it comes to video marketing, it is smart, shareable and personable. According to Facebook, video views grew more than 50% from May through July of this year, and since June there has been an average of more than 1 billion video views on Facebook each day. Facebook's new video ad products for sales and direct response and the fact that they're the greatest data company of all time for marketers and you have some serious reasons to spend some real money on Facebook video ads.
If you are interested in finding out more about video marketing for your business, please contact our office on 091 739450 to speak to a member of the IMS Marketing team.